AgriLogic's Proprietary Econometric Model - NATMOD
AgriLogic's Proprietary Econometric Model - NATMOD
The major factor that makes AgriLogic, Inc. unique in the market place is our large-scale econometric models. These models project future trends in supply and demand, commodity prices, input costs, operating margin spreads, and farmland values at the national and regional levels. AgriLogic has developed, tested, and applied these models over a number of years and has perfected them to the point that they provide meaningful and reliable information to commercial clientele. Multiple consulting projects completed for such entities as the United Soybean Board, National Corn Growers Association, National Association of State Directors of Agriculture (NASDA), Farm Credit Administration, and the Farm Credit Council are evidence of the recognition these models have received.
The principle value of these econometric models to our clientele is the ability to assess how specific market conditions and policy events in Washington and around the globe will affect production, prices, and government outlays. The simultaneous econometric models forecast the effects at the national, state, regional, county, and individual producer level.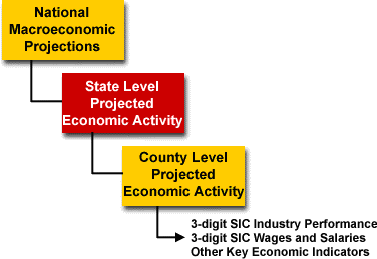 Our econometric models project future trends for over 150 crop and 40 livestock products and account for changes in farm program policy, macro-economic policy, foreign trade, weather, and disease. These models have full simultaneity between the crop and livestock sectors that allow for feedback between the two sectors. In addition, the model fully accounts for the supply and demand in the agriculture input sector. No other company has this modeling capability; not for agriculture, not for agricultural-related sectors, and not for the non-farm business sectors in the economy.
This figure summarizes the major model relationships in our econometric models. The green arrow identifies the interrelationships between the crop and livestock commodity markets. Both sectors borrow capital in farm financial markets, which in turn are influenced by trends in national money markets and global economic activity. Farm input suppliers provide fixed and variable inputs to farmers, and are also influenced by non-farm product developments that affect input prices in our econometric models.